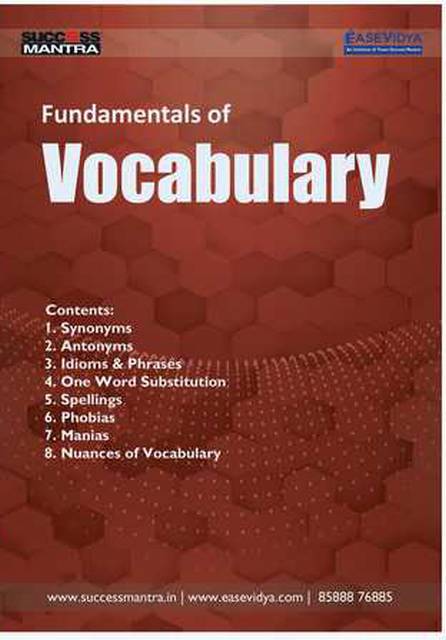 Fundamentals Of Vocabulary
CLAT


A WORD ABOUT THE BOOK FROM THE PUBLISHERS
Success Mantra's Fundamentals of Vocabulary has been designed while having an evident perspective of competitive examination and to meet the requirements of the candidates preparing for different competitive examinations in particular and of the learners of English in general. This book is unlike to others in several aspects of its composition. The words, which are given in this book in term of Vocabulary, are historic for all the competitive examinations. These words will impact you a lot of informative measures in the time to come. The given content of this book are most probable queries for the upcoming examinations.
Fundamentals of Vocabulary includes – Synonyms, Antonyms, Idioms & Phrases, One Word Substitution, Spellings, Phobia, Manias and Nuance of Vocabulary.
Go through them carefully. We will always look forward to your suggestion that helps us in enriching the book.
The Publishers
Success Mantra
current price:
250.00