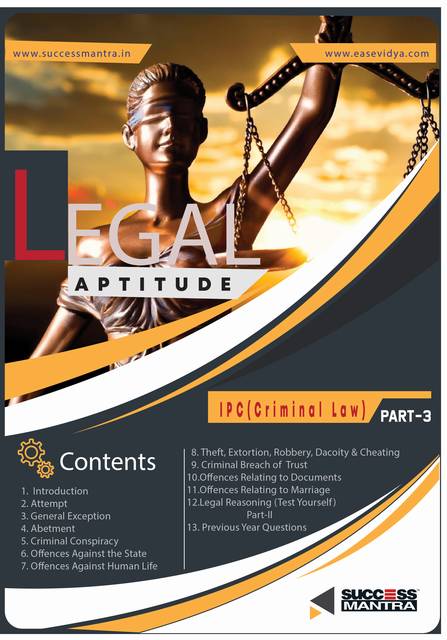 Legal Aptitude Criminal Law (IPC)
3 Year Law

5 Year Law


HARD COPY

current price:
300.00
Product Description
A WORD ABOUT THE BOOK FROM THE PUBLISHERS
Success Mantra's Legal Aptitude - IPC (Criminal Law), which includes questions on Legal Awareness and Legal Reasoning, is an integral part of all major law entrance examinations. This book has a comprehensive coverage with enhanced pedagogy, which will help the students to understand the important legal concepts.
This enhanced edition covers all the important sections of Legal Aptitude (IPC (Criminal Law)) with in-depth text and condensed summaries that present the salient features of each chapter in a nut-shell to serve as ready-reckoners for last-minute revision.

Being in touch with thousands of Law aspirants I have had an opportunity to collect feedback from them at regular intervals, and based on that we have updated each edition with utmost care and attention. I hope that the students will like this edition.
Suggestions are most welcome.
The Publishers
Success Mantra

Additional Information
All the chapters are thoroughly revised and restructured as per the latest syllabus and pattern of questions to meet the examination requirements, these features will enable students to crack numerous examinations such as CLAT, SET, AILET, etc. The chapters are:
IPC (CRIMINAL LAW)
PART-I
1. Introduction
2. Attempt
3. General Exceptions
4. Abetment
5. Criminal Conspiracy
6. Offences Against The State
7. Offences Against Human Life
8. Theft, Extortion, Robbery, Dacoity & Cheating
9. Criminal Breach Of Trust
10. Offences Related To Documents
11. Offences Relating To Marriage
12. Legal Reasoning
PART-II
1. Previous Year Questions (Chapter wise)