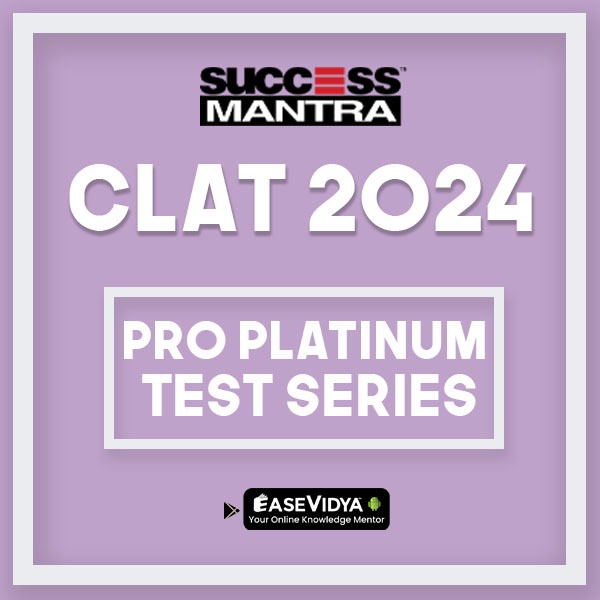 PRO Platinum Test Series CLAT 2024
current price: Rs.
7500.00
5999.00
Course: 5 Year Law
Validity: 2024-06-30
KEY FEATURES & BENEFITS: The 'PRO PLATINUM TEST SERIES'
KEY FEATURES
Online Mock Tests- Full-Length Law Tests providing a similar competitive environment, exam pattern, and difficulty level of questions.

Your Result Status & National Percentile - Overall Test Report including Rank, Score, number of questions attempted, Accuracy and Section Wise Analysis. Solutions With Explanations - With A Raise A Concern Discussion Platform.
Video Analysis of Mock Tests- Formulate your strategy for the actual exam by having a video analysis of mock tests from the industry's finest team of mentors.
24*7 Assistance- Interact and get answers to all your queries from Success Mantra's Mentors through the user-friendly mobile app "Ease Vidya".
Predictor- Introspect your current standing in comparison to the actual level with the most desired predictor of the country.
Knowledgeable complementary benefits - Pravahini: Monthly Compendium. Weekly Periodicals and MCQs of Current Affairs, Detailed Legal Proceedings, Daily Editorial Article on cutting-edge events.
KEY BENEFITS
a) provides you a platform where you map your performance among Toppers and Rankers
b) helps you identify your own strategy, to fine-tune your preparation, by making you understand your strong and weak areas
c) puts you in a habit of writing test and improves your decision making & time management skills
d) builds the stamina to take the pressure and stress that the two-hours exam puts you through
e) finally, replicates the actual CLAT Exam which helps in reducing the intimidation factor of the exam and ensures maximum efficiency
f) helps you learn new techniques of problem-solving for all major Law Entrance Exams like CLAT, AILET, SLAT, BHU, JMI, PU Law, MH CET, Christ University & some other major Law Entrance Exams.
This PACKAGE Includes:
75+ Mocks (CLAT = 40+, AILET = 10, SLAT = 10, LSAT = 5, CUET = 5, MHCET = 5)

136+ Unit Tests including 5 All India Test Series

150+ Daily News & Analysis (DNA) sessions on YouTube
Syllabus and Pattern of CLAT 2024
The UG-CLAT shall be a 2-hour test, with 120 multiple-choice questions carrying 1 mark each. There shall be a negative marking of 0.25 marks for every wrong answer. These questions would be divided across the following 5 subjects:
English Language

Current Affairs, including General Knowledge

Legal Reasoning

Logical Reasoning

Quantitative Techniques
Your RESULT Showcases:
Your Overall Test Report including Rank, Score, number of questions attempted & Accuracy

National Percentile

Section Wise Analysis

Solutions With Explanations- With A Raise A Concern Discussion Platform and Video Explanation
"Practice Makes Improvement."
Complementary KNOWLEDGEABLE CONTENT with your Purchased Package:
PRAVAHINI - Monthly Compendium & Weekly Periodicals of Current Affairs

Detailed LEGAL PROCEEDINGS Compendium

Monthly Current Affairs MCQs

Daily CURRENT AFFAIRS PDF

Daily EDITORIAL ARTICLE on cutting-edge events
By the end of the All India Test Series, what you will acquire:
Self-evaluation basis Mocks and AI Test Analytics

Sectional & Chapter wise tests to focus on weak points

Time Management & Accuracy Strategy

Confidence boost for actual exam through simulated test environment
About Success Mantra
A highly qualified team, led by NLU alumni, with full dedication to Law Since 2008

Best success rate across industry (Approx 80%)

Fastest growing Law entrance coaching of the nation

Only coaching with largest number of Practice sessions

Only coaching with complete guidance i.e. from teaching to mentoring to exam information to performance analysis
"Practice creates confidence. Confidence empowers you."